For the second year in a row, I attended WordCamp Pittsburgh, which is held at Pittsburgh Technical College in Oakdale, PA. WordCamp is a conference that is everything WordPress. It's broken down into 30-minute talks from a vast array of speakers speaking about a variety of topics.
Below is a breakdown of the courses I attended, and my overall takeaway from the event.
Overcoming Obstacles in Order to Succeed
The day started with an introduction from Adam Warner, an expert WordPress consultant, who spoke about his life, and how he ended up as a WordPress Evangelist for SiteLock.com. Warner discussed how he overcame many obstacles in life to pursue his dream of being an entrepreneur. We can all relate to this, especially as business owners: for every success, there are many struggles. If running a business was easy, then everyone would do it.
How does this pertain to website building? Well, like you, I overcome challenges daily, from bouts with technology to putting metaphorical fires out when customers need my help right away. In the end, I am better for it because I know how to face those problems next time they arise.
Warner actually lost an eye when he was an infant, and went through life, staring at computer screens, with only one good eye. Now, he's a success. We all struggle, but we can also all succeed. I think that was a perfect theme for this event.
Using Google Analytics to Create Useful Content
The next presenter, Ray Sidney-Smith, discussed Google Analytics, and why it's important to use the free tool to track website visitors. By using analytics, Sidney-Smith said, you'll be able to create better overall marketing content that resonates with users. And, you'll be able to get rid of unnecessary information that really isn't helping your cause.
The course was designed for beginners who just started using, or plan to use Google Analytics, but it brought up something that most people may not know: Google Analytics just one part of the free marketing platform that Google offers. The platform includes other programs, such as Data Studio, Optimize, Surveys and Tag Manager.
Data Studio allows you to created branded reports of your analytics and provide data visualizations to your clients.
Optimize is Google's new testing platform that allows users to quickly and easily test page design.
Surveys allow you to capture information from your users to make better-informed business decisions.
Tag Manager lets you manage your website tags and measure your advertising ROI.
The above tools help you identify where your advertising and marketing dollars are being spent and if they are really making the impact you want to see.
The Power of Social Media
The next presenter, Laura Byrne Cristiano, discussed the impact of social media, and the best ways to display your messaging.
One of my biggest takeaways from Byrne Cristiano's course was the power of using images. When you post something to Facebook or another social media platform, users only remember the content 10% of the time after 3 days. If you attach a photo to that post though, 60% of users will remember the content. Most of your customers are visual learners, and photos and videos are far more compelling than simple text or links.
What I Wish I'd Known About Freelancing
One of the most powerful presentations, at least from my vantage point, was, "What I Wish I'd Known About Freelancing," by Nathan Ingram.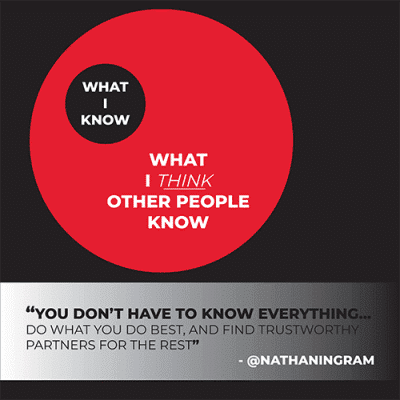 The first point that jumped out to me was that you don't have to know everything. You know that feeling when you walk into a room of peers and hear others discussing things that barely make any sense to you? All of a sudden, you feel that you know nothing, and everyone else is leagues ahead of you.
Well, that's not true, according to Ingram. Some people are great at one thing, and others are pretty good at a lot of different things. For example, Heartbeat Websites primarily focuses on website design and development, while our partners handle SEO strategies and videography. We might be able to do everything, but we'd rather work with trusted experts in that field to handle it correctly.
Secondly, running a debt-free business is an important aspect of being successful. Heartbeat Websites is debt-free and it will stay that way. It allows us to focus on our clients' needs, and not overcharging them to settle debts. When you work debt-free, you'll be able to wait for the right jobs instead of taking ones that really aren't beneficial to you and your company. It completely changes your mindset, and you'll do much better work overall.
Bringing it all Together
You're never too old to learn something new. That's why I make it a point to participate in events like WordCamp Pittsburgh. These events give me the opportunity to absorb new information so I can pass it onto you as the customer.
As a business owner, you know that being an expert at your craft is necessary to educate your customers. You also know that you'll need to overcome obstacles, such as learning and implementing social media and Google Analytics strategies.
One day, you may look back and tell yourself, "wow, I wish I knew this ten years ago." But, hopefully, when that day comes you'll already be in a better place because you learned and grew with your business.
——–
When you're ready to breathe new life into your website, contact us to get started!